Which company can develop the best social media mobile app like Facebook or Instagram?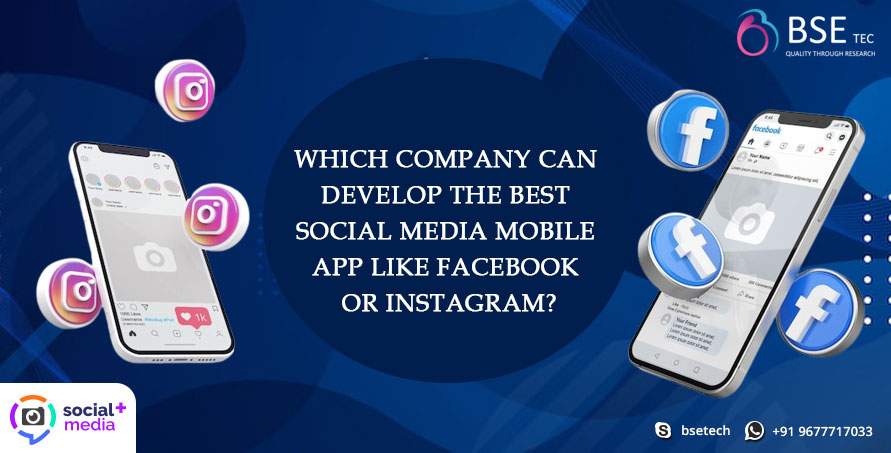 Social media has revolutionized the way people think, believe and act. It is no more a trend but has to be accepted as the enduring reality due to which even businesses are adopting social media models and creating their portfolio using them. With more than 7 billion smartphone users around the world, businesses are transforming themselves digitally and bringing about innovations with each passing day, and therefore, the number of social media app users are reaching great heights- where one can follow others, share their opinions, build networks & stay up-to-date about the latest happenings.
What is the best way of developing a social media app?
To develop an app like Instagram or Facebook, one can either start to create it from scratch or opt for seamless clone scripts.However, one must also consider rethinking that when you develop an app from the beginning, it requires extreme time, effort and also, costs a fortune. Therefore, the next best alternative is using a social media clone script.
Also Read, "The Significance Of Instasocial plus in the modern social media life"
Which company can create an app like Facebook or Instagram?
BSEtec is one of the leading IT companies which specializes in creating apps and websites which has the potential to make an impact on others.
It offers a crisp clone- Social Media Plus, which is the Instagram clone- which can easily create a replica of your favourite app without even typing a single line of code.
Some of the features offered in the social media clone are: 
It has a user-friendly interface – The interface is easily navigable and facilitates ease of use for the app users irrespective of their age.
It is SEO friendly – It has been Search Engine Optimized, which makes it very attractive towards organic traffic and helps in high lead generation. 
It is quite affordable – It costs less than half the amount needed for from-the-scratch development.
It is extremely customizable – The clone of Facebook & Instagram is extremely customizable with a variety of templates, themes & colour schemes.
It has a quick launch feature – As the clone is already developed, it just needs to be modified according to your preferences, and then you are good to go. 
Know the, "instasocialplus become the game changer of the socialmedia app market"
Summing up
So, if you are looking forward to creating a social media app, opt for Social Media Plus by BSEtec.