Why is starting an e-learning business highly profitable?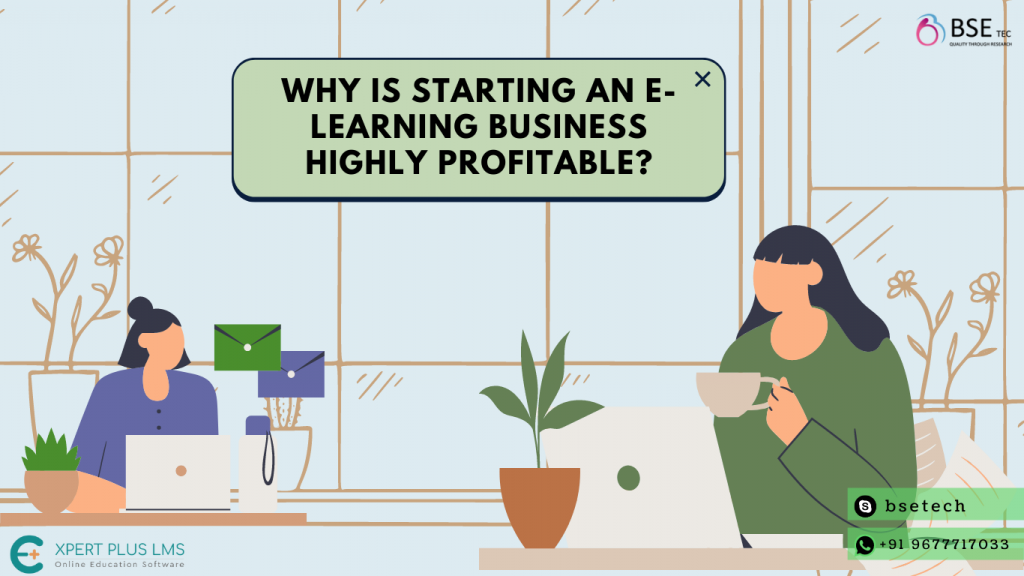 E-learning is the most popular way of learning and teaching. It can be done through the internet and devices such as smartphones, computers, tablets etc. 
What is an e-learning business?
There are many ways through which these e-learning applications help in bringing revenue to your business. One such way of earning money from this application is by creating e-learning content for students and teachers. Many businesses have started using this method to make money online. They offer their services to schools, colleges, universities or individuals who want to learn something new or improve their skills.
Read Why is Developing a Udemy Clone App the Right Idea for your E-Learning Business
E-Learning software is a digital platform that helps in learning and teaching processes. The main aim of this platform is to provide an interactive way of learning through which students can get maximum knowledge. This type of software has been developed in such a way that it can be used by all types of people, whether they are students or professionals.
The reasons why starting an e-learning business is highly profitable:
There are many benefits of e-Learning applications that help in bringing profit to your business. Some of them are as follows:
E-Learning for everyone: The first benefit of starting an e-learning business is that it can be used by both individuals and businesses. For instance, you can use this technology to train your employees or you can sell it as a service to other companies who want their employees trained.
Diverse range of courses and topics: There are a lot of topics that you can choose for your e-learning course that will attract more customers towards your website or app. You just need to find out what topics tend to be more popular among the people and then start with those topics only. For example, if you want to start a business related to model strategies and financial planning then you can create an e-learning course on it and make sure that it contains all the necessary details about financial planning and how it can help in bringing profits to any business organization.
Affordable e-Learning business pricing model: E-learning businesses also offer affordable pricing models for their customers so that anyone can afford their services without having any financial issues. e-learning applications are relatively less expensive compared to traditional methods of best practice examples like classroom studies or face-to-face sessions. You don't have to spend money on renting a classroom or hiring teachers for training sessions if you have such software at hand. E-learning is cost effective because it helps you save on travel costs associated with conventional classroom training methods where students need to be physically present in a particular location at a specific time for their classes so that they can interact with their trainer directly during class hours
Learning Management System offers convenience: E-learning is extremely convenient for both the learners and the trainer as it offers flexibility in terms of time, place and pace of learning. The learner can learn from anywhere at any time and there are no restrictions on where they can get their training from. The trainer does not have to travel long distances to reach out to his learners for their training sessions, thereby saving on travel costs.The New Normal that will make necessary impact on your online E-Learning Business.  This means that they can access the course materials whenever they want from anywhere in the world without any hassle. Learning with e-learning courses is also more interactive than classroom training as it allows both parties to interact freely with each other through various modes such as emailing, chatting or even video conferencing if required.
These are some of the success factors through which these applications help in  bringing revenue for your business.
They can charge for one course or can make a subscription plan for users.
Subscription: This cost-effective pricing model is aimed at content creators who want to build a consistent following by offering users access to all of their content for a monthly or annual subscription fee. It's also easy to manage and maintain, which makes it attractive for developers and creators who want less hassle when it comes to managing their online course site.
Per course pricing: With this option, you can set the price for individual courses that students purchase or enroll in. Some Udemy clone sites will allow you to give away some courses on your platform free of charge while charging a premium price for others.
Membership: Similar to the subscription model, with membership pricing, you can offer users unlimited access to your courses at one fixed price. However, it is slightly different in that members get access only for a specific period of time as opposed to receiving lifetime access as subscribers do.
Affiliate marketing: If you are providing any products or services, then you can use affiliate marketing as a part of your e-learning business model to generate revenue. Affiliate marketing is when you get paid for sending traffic to another person's website and if anyone buys anything from that site then you will get a commission on it.
 An E-learning business is a digital platform, which allows the learning and sharing of knowledge through courses, online courses, and other educational material. step into the E-learning Software Business With Expert Plus LMS you can reach out to thousands of people with your course or product. You can create an e-learning business by creating e-learning courses and selling them online. You can also create video tutorials for a specific topic, which can be sold at a price.   Expert Plus LMS can be used for various purposes such as employee training, marketing, sales, and more.