Why Prototyping is a Vital Step in the Design Process?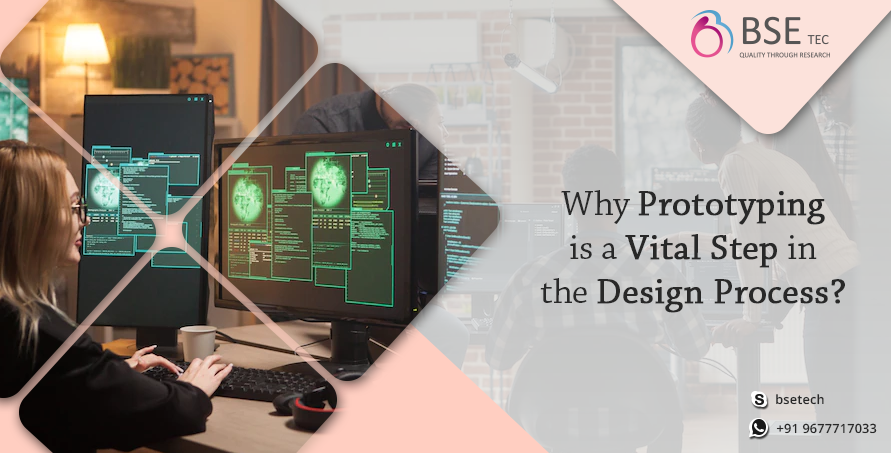 The main goal of the product builder is to ensure whether the customer is satisfied with the product and it meets his/her needs. In the first phase of the development process, product teams formulate ideas that focus on solving the customer problem. Sometimes, in addition to conducting adequate user testing, product teams skip directly to product design, which is often followed by a downfall, as there is no attraction with real users in the market. But this problem can be solved by prototyping your ideas for software development.
Prototyping is the process of building an interactive experience, including counterfeiting of the user interface interactions. It basically provides a mock up of a website or app's functionality and design details, so you can better understand the final product before investing all the resources in building an app or website. Web and application prototypes help reduce overall development time. It is also helpful to harmonize the view between participants and users. It plays a major role in gathering valuable user feedback and ultimately brings the idea of ​​design to life. Apart from this, doing prototyping helps prevent the previous big investment in a digital product like an app or website, and it helps to see if it works and looks attractive or not and the design has an easy-to-use interface, which can be tested by prototyping.
Why is Prototyping Considered a Vital part of the Design Process?
For validation of ideas–

Most people underestimate the need for testing and validating your idea and get a reality check of its demand in the marketplace. Prototyping helps to understand the market-value of the product through getting validation from its real-life customers.  
For enhanced user involvement–

Involving the users at the early stages of product development helps to accumulate the users' feedback. Their insights are going to be very valuable for the further adjustments to the final product. This eventually will have a positive impact on brand awareness even before the ultimate version of the product is rolled out by the development team. 
For achieving a high quality product–

Prototype helps the development teams to reduce the risks and detect errors at early stages even before writing a single line of code. Besides prototyping helps you to step closer for an efficient product development process which is helpful in achieving a high quality product. 
For getting feedback beforehand–

Pouring money on useless ideas that were not tested by the market may even lead to a failure of a company. However, feedback from users beforehand by incorporating prototyping in your company strategy will eventually give you a perfect product in the end and make for all possible iterations on the basis of the obtained feedback from early adaptors. 
For better fundraising opportunities–

With a working prototype you have better chances of winning over your prospective investor with your idea because it is much more promising and has an intention worth funding. Prototyping is a game-changer in the design industry and gives you a tangible version of your idea, which opens up a truly remarkable business opportunity. It also helps to gain credibility and loyalty of the investor. 
For collaboration with stakeholders–

Allowing the important decision makers and stakeholders within your business to visualize the concept and interact with the tangible form of the product is helpful in the buy-in process. 
Conclusion
With Protomock, you can design an entire prototype without knowing a single line of code. It is easy, fast and helps your idea come to life, and also you get design support, which is a bonus. A one stop solution for all your prototyping needs– Contact Protomock today!