Blockchain for Non-Profits: Revolutionizing Charitable Efforts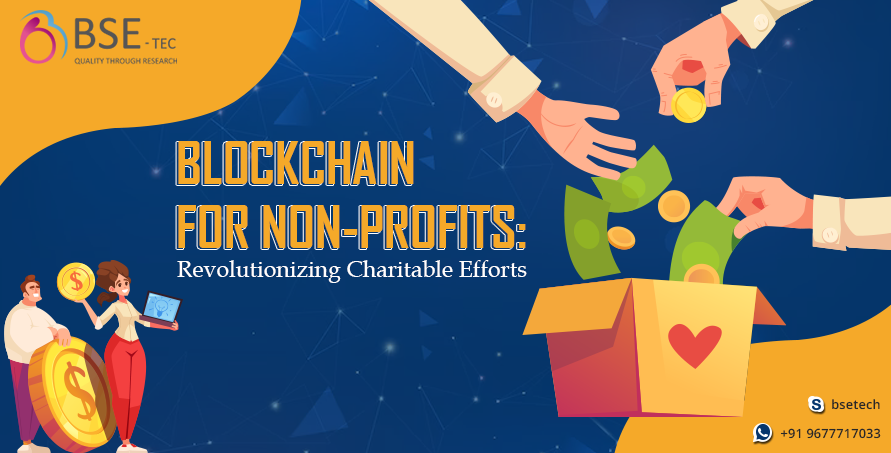 Are you a social worker, running a Non-Profit Organization (NPO) and raising funds for charity? Gotta to know how blockchain revolutionizes philanthropy? Do you know? Blockchain for Non-profits, provides a clear and concise digital record of all donations and their use, ensuring each donation reaches its intended recipients and that it's used in an ethical manner.
How does blockchain for non-profits work? 
In a study, the first 11 months of 2022, the U.K. saw 408 cases of charity fraud, accounting for £2.3 million in lost donations and representing a 44% uptick from 2021, according to Action Fraud, a centre reporting on fraud. A global slowdown in charity contributions, with charitable donations in the U.S. falling to their lowest level in decades, adds to the troubling report from the U.K. This happens due to a lack of account transparency.
Transparency in Blockchain – To avoid this kind of situation!
Blockchain for non-profits involved with Distributed ledger technology in blockchain, as it records transactions in a secure and transparent manner. By using complex algorithms and cryptography, blockchain technology ensures all transactions are immutable and available for all authorized parties to view in real-time presented online by providing a clear and concise digital record of all donations and their use, ensuring each donation reaches its intended recipients and that it's used in an ethical manner. Further, blockchain technology enhances the transparency of all nonprofits and charities by publicizing their records and movements of funds. This prevents the misuse of cash and empowers individuals and organizations to control all monetary transactions.
Who Generates Funds?
Generally, both governments and (non-governmental businesses) raise funds from nonprofits and charities as humanity, Beyond ensuring the transparency of funds, blockchain can also facilitate and expand credit marketplaces and improve the energy industry's processes and markets, making it more eco-friendly, Cryptocurrencies, Smart Contracts, and Mining for Charity, More and more NPOs including 'Red Cross', 'Save the Children' are beginning to accept crypto as payment. So, the wide acceptance of crypto is an opportunity to invite massive new streams of income.
Smart contracts are protocols that automatically execute the predetermined code. For charities, smart contracts can ensure that tangible value is promptly delivered without any subjective or biased human intervention. Further, it encourages NPOs to strictly adhere to the original goals.  
1. High Transaction Processing Speed – Blockchain builds trust with contributors, beneficiaries, and different partners to contact the ideal individuals and improve organization expenses and adequacy process the transaction at a faster pace, ignores the middleware and reduces the processing time.
2. Reduction in Transaction Cost – Blockchain eliminates the need for intermediaries, each transaction's cost gets reduced in the Blockchain Environment. which allows the Donor to transfer more money to the recipient at minimal or no platform fee.
3. 100% Transparency – Blockchain monitors the entire transaction, the Donor can easily trace the utilization of funds donated and confirm whether the same has been used for the intended purpose of sending a note. Blockchain provides 100% data transparency to contributors, and if any mislead happens can identify & track the loss of funds.
4.  Zero results of hacking Trace where the money is going in the Blockchain Technology. Regular smart contract audits lower the uncertainty, and cyber-crime from the philanthropy world one can utilize the platform to help the donors have access to the charity's immutable records of payment amounts and routes.
As the blockchain industry continues to grow, it will be able to aid the work of nonprofits and charities with immense growth.  Further to develop your own blockchain application for your NPO (Non-Profit Organization) reach BSEtec – a leading blockchain development company to develop innovative solutions to expedite internal operations while maximizing external ones to improve humanity in the world.
Did you find this article useful? Let us know by leaving a comment below or join us on Twitter and Facebook.