Investing in Cryptocurrencies: A Step-by-Step Guide for Beginners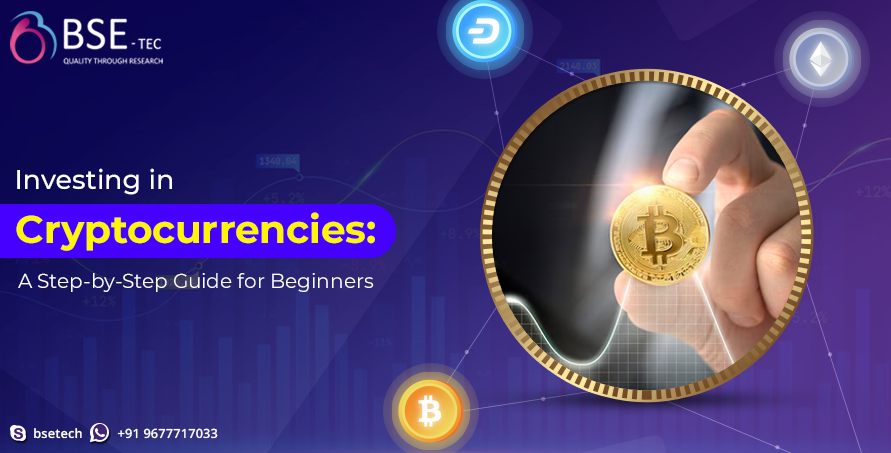 Haven't heard of  cryptocurrency ? still remit payment in traditional mode , Awake it's high time to adopt crypto , Not sure of making the right  investment in cryptocurrencies ? step in more deeper what is cryptocurrency ?, how to start investing in cryptocurrency.
What is cryptocurrency ?
Cryptocurrency is a virtual currency similar to our physical currencies (Dollars,Cash,Euro and all other currencies) . Unlike most forms of currency, cryptocurrencies are decentralized, meaning not issued by any central authority of countries, how then estimated and remitted ? Cryptocurrencies are units of so-called coins or tokens digitally created that rely on blockchain technology.
Coin uses its own independent blockchain For example, Bitcoin is considered a "coin" because it runs on its own infrastructure. Similarly, Ether is operated via the Ethereum blockchain.
 Bitcoin (BTC) price reached an all-time high in 2021, as values exceeded over 65,000 USD in November 2021,The market was noticeably different by the end of 2022, however, with Bitcoin prices reaching roughly 27,297.26 as of August 31, 2023 after another crypto exchange, FTX, filed for bankruptcy.Bitcoin experienced a significant price rally every month /year. 
Tokens use another blockchain's infrastructure including Tether, which is hosted on the Ethereum blockchain, and others, including Chainlink, Uniswap, and Polygon.
Types of cryptocurrencies As of recent top 10 currencies in 2023: 
Bitcoin is the world's first cryptocurrency and remains the best-known type of crypto arms with decentralized miners.
Ethereum, technically known as ETH ,creates infinite no.of coins, supports smart contracts and executes the predefined program automatically if instructed. 
Tether links external assets ,each coin backs equivalent USD .
XRP runs in the Ripple network – supports international payments , binds as a bridge between two different currencies to offer cost effective, quicker global transfers.
BNB world's largest cryptocurrency exchange native to Binance ,remit via BNB cuts transaction fees and "burns" a fixed percentage of the coins in circulation.
USDC (US Dollar Coin) removes risk associated with crypto, as users should always be able to withdraw their coins and receive the corresponding amount of cash in exchange.
Avax allows developers to create new / custom blockchains on Avalanche as "subnets." Avalanche's blockchain is compatible with Solidity, the Ethereum blockchain's programming language, which makes it easier for developers to build subnets on Avalanche.
Cardano Decentralized ADA splits its blockchain into two layers to increase transaction speeds and implements native tokens for better experience for ADA holders.
Solana looking to trade quickly pulls investor ,functions on a blockchain system, just like Ethereum and Bitcoin often called as SOL
Aave (AAVE) decentralized crypto platform built on a proof-of-stake blockchain,lend & brown cyrptocurrencies 
How does cryptocurrency work ?
Blockchain produces  a secure encrypted record of the value of each virtual coin and its associated transactions with DLT(Distributed Ledger Technology). Those records are distributed and linked across the network of parties, or computers, accessing respective blockchain. More practically, blockchain can be accessed by anyone with an internet connection. This system is designed with security, transparency, speed, and accuracy in mind. 
How to invest /purchase the right cryptocurrencies ?
1.Trading stocks : First pick a broker or a crypto exchange ,where buyers and sellers meet to trade cryptocurrencies for short-term gains. This requires a good understanding of the market and can be risky.
2.ETF's : Buy Hundreds of individual holdings using ETFs for a longer period of time,provide immediate diversification and allow one to invest in many cryptocurrencies at once.
3.Invest in crypto companies– Mining : This involves using your computer to solve complex mathematical problems in order to validate transactions on the blockchain network. This can be a profitable way to earn cryptocurrency, but it requires a significant amount of computing power.
To invest you only need:
✓Personal identification documents
✓Bank account information
✓Secure internet connection
Tax: For tax purposes, cryptocurrency is considered an asset, like a stock or property. When you sell crypto and make a profit, you'll have to pay tax on what you earned.

Short-Term Investing: Because cryptocurrency is a volatile asset, consider it to be a short-term investment rather than a long-term one.
Steps to create crypto exchange account
Step 1. Account creation & verification : sign up to open an account choosed crypto exchange. Depending on the platform and the amount you plan to buy, you may have to verify your identity. Most essential step to prevent fraud and meet regulatory requirements.
Step 2. Investing progress : Transfer cash to cryptocurrency , invest with sufficient funding in your account else can link your debit card along with your crypto exchange account to invest in crypto.
Step 3. Order placement : Once money credit in your exchange account purchase required cryptocurrency desired type namely BTC, AVAX so on..

Step 4 Wallet : Purchased cryptocurrencies are stored in wallets .Generally crypto wallets stored online and run on internet-connected devices, such as tablets, computers or phones as blockchain ensures a secure method of transaction.
Step 5 Usage : Start to use purchased cryptocurrencies online shopping: Many online retailers accept cryptocurrency as a form of payment.
Traveling: Cryptocurrency can be used to book travel arrangements, such as flights and hotel rooms, through companies like Expedia and CheapAir.
Advantages of Investing in Cryptocurrency
Cryptocurrencies promise to make transferring funds directly between two parties easier without needing a trusted third party like a bank or a credit card company. Such decentralized transfers are secured by the use of public keys and private keys and different forms of incentive systems, such as proof of work or proof of stake.

– Implement cryptocurrencies payment along business reduce paper money upgrade digitally reduce risk of Money theft , miscalculation.
Increase new funds and improve financial liquidity to business rather than loans via Fiat currencies.
By supporting cryptocurrency, a business can offer consumers and business partners a broader range of payment options, instead of being limited to fiat currency alone , this leads to investing in cryptocurrencies globally.
Cryptocurrency is based on blockchain, which provides an immutable ledger — a tamperproof, cryptographically assured record of transactions. The ledger's high degree of auditability enables a business to track audit transactions. The ledger also enables transparency to identify if a transaction occurs, potentially boosting accountability as well.
Removes single points of failure
Easier to transfer funds between parties
Removes third parties
Can be used to generate returns
Remittances are streamlined
For sure , get updated with crypto , invest in  digital assets that use blockchain technology to assign ownership to each unit. To know more about investing cryptocurrencies for business , need blockchain experts consultation reach BSEtec -Leading blockchain development company.
Did you find this article useful? Let us know by leaving a comment below or join us on Twitter and Facebook.