Creating Your Online Learning Empire: The Power of Udemy Clone Platforms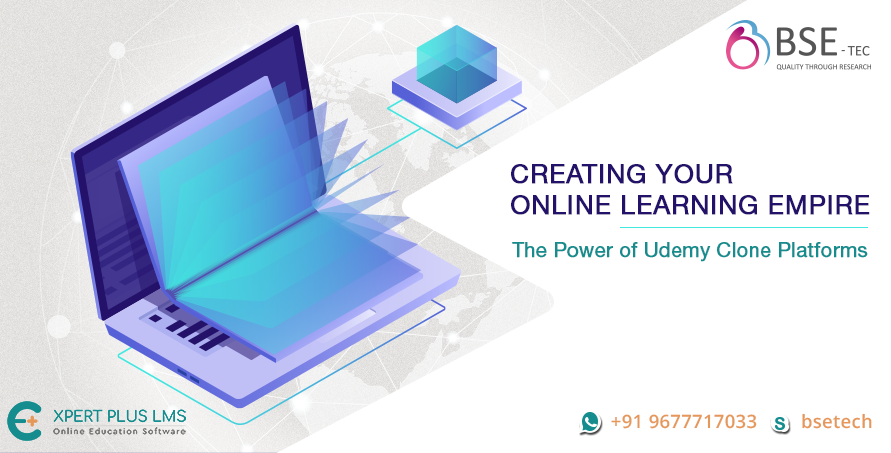 From 2020, online learning has gained immense popularity due to its convenience and accessibility via Mobile apps and websites. With the advent of Udemy clone platforms, people no longer need to attend physical classes to gain knowledge and skills. Instead, they can learn from the comfort of their own homes through online learning platforms.
One such portal that has revolutionized online learning is the Udemy clone platform. Udemy is an e-learning marketplace that offers a wide range of courses on various subjects taught by industry experts. It has become a go-to platform for both learners and instructors, allowing them to connect and share knowledge. Looking to create your online learning empire, developing an Udemy clone platform can be a great way to start.

Why does Udemy clone platforms a powerful tool in the eLearning industry?
Course Selection: One of the key features of the Udemy clone platform allows you to offer a wide range of courses on different topics. This enables you to act as per specific learning needs.
Expert Instructors: Udemy clone platforms give you the opportunity to collaborate with industry experts and experienced instructors.
User-Friendly Interface: Udemy clone platforms are designed typically with a user-friendly interface to make learners easily navigate and access courses which can enhance the overall learning experience and encourage learners to return to the elearning platform.
Customization: Modify existing design/features you have the flexibility to customize the eLearning platform according to your branding and design preferences (White labeling to create a unique and personalized learning environment for your users.
Monetization: Udemy clone platforms offer various monetization options, such as course fees, and commission-based revenue sharing with instructors, and admin. Can help you generate income and grow your online learning empire.
Where & How to find the right provider of  Udemy clone script?
E-learning platforms are most in demand, Get connected with BSEtec – A leading blockchain development company that owns product Expert plus LMS – udemy clone script.
Why should I choose Expert plus LMS – udemy clone script?
Developing a platform like Udemy clone from scratch can be time-consuming and expensive. By using Expertplus LMS – Udemy clone, you can save both time and money as the basic structure and features are already built.
You can launch your e-learning platform quickly as Expertplus LMS –  clone script comes with pre-built features, allowing you to focus on customizing and branding the platform according to your requirements.
Expertplus LMS – Udemy clone script is built in a way to handle a large number of users and courses. As the platform grows, you can easily scale up the infrastructure to accommodate more users and courses without any major technical challenges with stability in performance. In conclusion, creating a Udemy clone platform can be a powerful way to establish your online learning empire. With the right strategies, Create your Udemy clone platform with BSEtec Expertplus LMS  to become a leading player in the e-learning industry which can be the right decision.
Did you find this article useful? Let us know by leaving a comment below or join us on Twitter and Facebook.