Now Is the Time for You to Know the Truth about Mobile Apps Space In 2018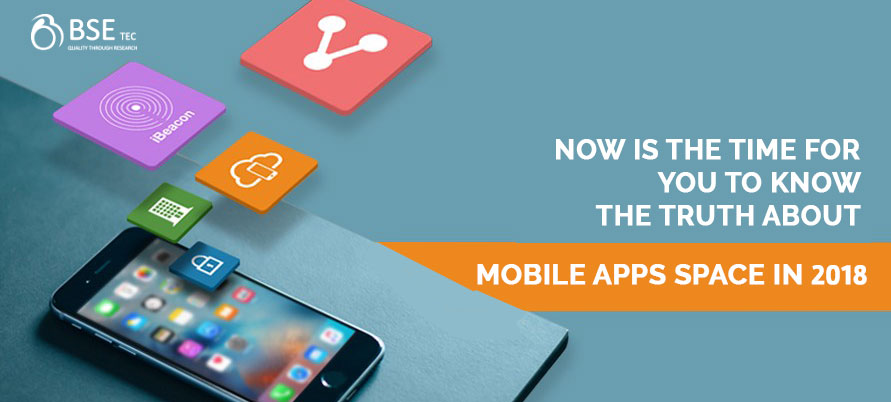 Mobile industry has been a solid proof of invention and innovation with new technologies developed every day to help business to stay top in the list in commercial market. Furthermore, mobile app developments has immense growth in the past few years as numerous business people realise that mobile applications are not out of their objectives. Moreover, large investments are done on mobile application developments in order enhance their businesses, augment their sales, elaborate markets and improve customer loyalty. Though mobile application development has rolled out for decade with 2018, let us have a detailed view of the anticipated developments or techniques in the commercial digital markets.
IoT (Internet of Things): Internet of Things is a technique that supports the functionality with the use of sensors in various gadgets and electrical/electronic appliances to empower automatic process, control and supervise. With the implementation of IoT in numerous domains, it is proved that mobile developers will step forward with several user-friendly devices based on remote control functionality. Mobile gadgets are used highly to associate information and so with the total augmentation of Internet of Things appliances, there will progress mobile apps for handling them from a remote distance.
Mobile Page Acceleration: when we login to website or application, we don't like to wait for a long time to access what we are looking for, moreover, the page to be loaded. As a solution, Google has developed a means called "Accelerated Mobile Pages (AMP) that allow rapid loading of web pages. Considering the search engine benefits and local search index offered by Google for mobile webs and apps, numerous companies are starts to adapt AMP concept in the near future.
Android Instant Apps: Google has stepped even more forward in mobile application development, by introducing the Instant mobile apps. Android instant apps will become truly outstanding inventions in the coming years. Moreover, due to their super-friendly usability, it becomes trendier than any other apps. The main attraction towards instant apps is they do not need installation for the operation. As a consequent, it can be accessed as mobile web pages, offering access to several features and advantages. Furthermore, it consumes less battery life and mobile memory storage.
VR and AR apps: Until today, Augmented Reality and Virtual Reality are becoming super trendy in several sectors. Before, these concepts are used only in gaming and entertainment. However, with the technology advancement, various sectors like education, medical, navigation, commercial affairs, etc. they brought a tremendous revolution in our today's technology world. It is understandable that most business will develop with the idea of AR and VR. The main reason for their success is their ability to provide intensive real experience to the users. No doubt, in 2018, Augmented Reality and Virtual Reality will be playing a vital role in commercial development. Furthermore, now trending a MIXED REALITY, where AR and VR are combined to give super-effect customer experience.
Cloud computing: The occurrence of cloud computing that is already making an impression by its various advantages. The main benefit of cloud computing is it allows wide storage of data in mobile apps and processes heavier tasks with any end on the mobile by collecting the data. Therefore, such process will improve accuracy, speed, and app privacy. Furthermore, it encourages mobile application organizations to augment the storage and analysing the customers' data. Accordingly, in the near future, most of the mobile app development companies will have cloud computing to enhance the speed and improve the user experience.
Therefore, in 2018, mobile app companies will continue to improve at a rapid speed with these trending technologies. Moreover, every company must implement these trends to stand in their market. BSEtec has already stepped into these trends in all their projects. It uses all new up-coming technologies to provide a versatile user experience to their customers. Furthermore, several AR projects like COLORBOOK AR PLUS, WATCH AR PLUS, FURNITURE AR PLUS, and Emote AR Plus has been developed with Augmented Reality concept. Visit https://www.bsetec.com/ to view all our products based on new technologies.