Top 5 Reasons Every Business Needs a Learning Management System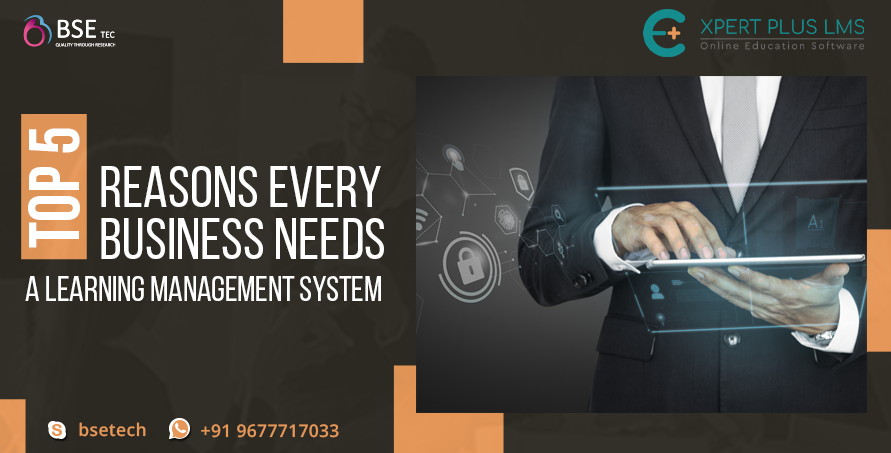 For a business to flourish and thrive amidst the competition, it needs to manage its resources wisely. This is the reason behind the reluctance of some people to embrace new technology, while some are willing to do the same. Companies try to weigh their options by considering the purchasing costs and the price of new software. Many have this misconception that using a Learning Management System for business is the only ideal for big organizations with a huge budget, however, small businesses too can benefit a lot by using an LMS for effective employee training and development, without spending too much money. With varied training modules and materials, the best Learning Management System for business can help in delivering courses to the students by various instructors and controlled by the administrator. 
One of the best software to build an LMS for your business is the Udemy Clone– ExpertPlus by BSEtec. 
Why do we need an LMS? 
An LMS is necessary for businesses to sustain their growth, function properly, streamline their procedures and improve the overall workforce efficiency. 
So, what are the major compelling reasons for a business to incorporate an LMS into its operations?  Let's see–
Empowers cost-effectiveness– Offline training requires a lot of costs– for onboarding instructors, purchasing different equipment, printing materials and even making separate rooms for training purposes– which means extra electricity charges, chairs, tables, etc. However, an LMS is an online learning platform that can hugely help you to cut down training expenses because everything is made digital. These digital transformations in today's world are helping businesses to become more aware of how they can be efficient in saving their resources and put them into something more valuable. 
Improves customer service– It has been reported that if the employees are trained well, they deliver better customer service– as they are better aware of the tools and knowledge that is needed for representing your brand and thus, have a better grasp at customer care. It helps the staff of your company to boost their skills and confidence, which in turn will build customer satisfaction and loyalty towards your organization. 
Allows customization– The ability to make the Learning and Training experience more personalized is the biggest boon of having an LMS as it allows customization to suit your business's needs. You can update it anytime according to the preferences of your users and add new and interesting training modules from time to time. An LMS is scalable and you can add/delete any feature you want which makes it very convenient for a company to train their employees effectively. 
Training consistency– Offline Training is not very consistent as the delivery of the courses will entirely lie in the hands of the instructor and how well they engage with the learners. But, training the employees through an LMS delivers a consistent quality of training.
Easy Reporting and Tracking– Having an LMS allows to track and measure the progress and performance of the employees in the course material through internal assessments and quizzes. It also helps to understand if the LMS is meeting the user requirements or not, and if there is any enhancement needed via some text, eBooks, video or audio files and enrich the user experience. 
So, now that we have discussed the top five reasons why every business needs an LMS if you want to build your own LMS for training the employees for your company or startup, then do not hesitate to contact BSEtec, as we provide the best quality Udemy clone script in the industry. Contact us now!