Guide to the eLearning Development Process for New eLearning business people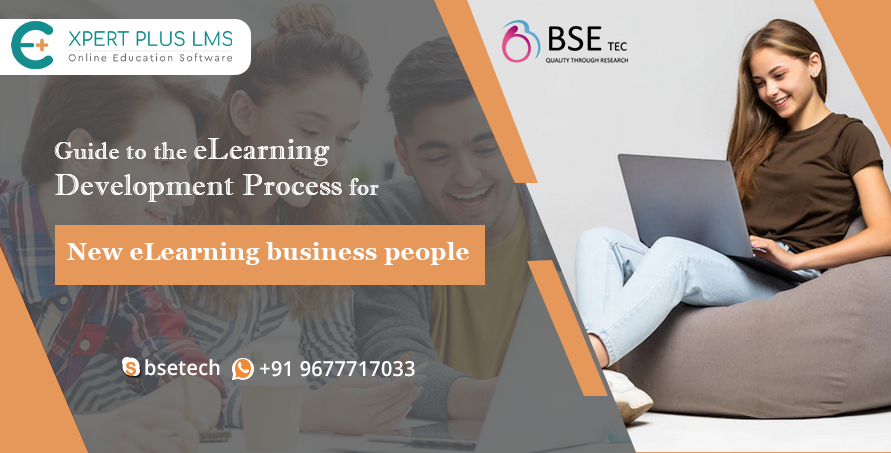 When you are starting an eLearning business, it is important to have a plan and a process. The eLearning development process can be broken down into five stages: pre-production, production, post-production, launch, and maintenance. Let's go over each stage in more detail. In order to produce effective eLearning, there is a process that must be followed.
Read Fully Utilize Udemy Clone Script to Enhance Your Business
This process will ensure that the eLearning course is aligned with the instructional objectives and that the end product will be usable and effective. Whether you are a new business person producing your first eLearning course or an experienced pro, it's helpful to have a reference point for developing your courses. From understanding the different types of eLearning courses and tools, to designing the course and getting feedback along the way, this guide has it all.
The eLearning Development Process can be a daunting task for those new to the eLearning business. It is often difficult to know where to start and what order to do things in. In order to develop an eLearning course, there are a lot of steps that need to be followed.  This guide provides an overview of the different stages that are typically involved in eLearning Development and will help you understand what is required at each stage.
By 2026, research firm Research and Markets anticipates the worldwide online education market to reach $388,23 billion.
According to IBM Learning Research, every dollar invested in online education and training generates $30 in revenue from employee productivity.
"One of the most well-known e-learning app – Expert Plus LMS"
A Learning Management System (LMS) enables an individual to create, manage, and provide online classrooms and programs to students and instructors. It provides a platform for students and instructors to learn and showcase their skills whenever and wherever they desire.
Training is necessary for every industry, be it software, educational, or corporate. We need to train the employees as per our needs, which LMS can do easily. It automates most of the tasks, and it tracks the progress of individuals, which saves the organizations' time and money.We can create learning programs, courses, and tutorials with an LMS and post them online for anyone to access.5 tips and tricks to choose a Successful Udemy Clone Script
 This is helpful when an employee leaves or retires so that knowledge is preserved. Creating awareness programs and tutorials on anything useful can educate the general public.
An e-learning app called Expert Plus LMS that offers the standard subjects by providing classes such as Science & Technology, Yoga, Banking, Design, Cooking, Drawing, and Marketing.
Look At: 9 New Elearning Trends & Predictions for 2021/2022 | Udemy clone App
What are the necessary features in an LMS?-
Expert Plus LMS
A learning management system that integrates seamlessly with other systems, such as association management software or talent management systems, can provide L&D professionals with important course completion data.

The ability for L&D professionals to track a learner's progress using stored data allows them to better understand how courses and learners perform. This allows them to track and design their learning programs more efficiently.

The LMS should be able to host videos, slide decks, texts, and other learning materials in a centralized, user-friendly environment since centralized learning materials allow users to stay organized and provide consistency, both of which are important for increasing learner engagement.

The content an LMS offers should be based on a learner's history within the software, as well as their role and if the LMS is more tailored to a user's learning preferences and/or its function, they become more engaged.
So, what are the crucial steps in the eLearning Development Process for the New eLearning business? 
Analyze your goals: Analyze your competition in the niche you're intending to enter thoroughly. Look at what other apps have to offer and read reviews to see how happy their users are with the product. Make Learning Easy With Udemy Clone App Development
You must think of something that is really unique that will make your product stand out. Research thoroughly about the niche market in order to get the idea of how this business is really taking over the educational market. You must be certain that the life concept you wish to pursue is distinctive and valuable.
Set your target audience: Do you have any idea what the audience of a niche market wants? Do you know what your audience is expecting from the product that you are going to develop? Do you know taking feedback and inspiration can work for you? Now, what you can do is set up elements that you think your audience might like and the features that you are going to integrate within the LMS, it might help you a lot. 
Work on UI/UX design: Your team of developers might know what their job is so get the best development team from BSEtec. In comparison, a colorful and plain interface would be more friendly for an educational app for children, while a sharp interface with muted colors would make an educational platform for adults easier to use. 
Testing, launch, and maintenance: This is a very crucial step as this is the final step that decides whether your app will be a success or a failure in the market. You can always add anything that you want in your application later, but remember the first impression matters.
Check Types of characteristic features that a Udemy clone script must possess
However, for business people planning the whole process and implementing it might be difficult. So that is why BSEtec is there with its Robust Udemy Clone- Expert Plus LMS.
A team of experts at the company can build any type of app, from a simple utility to a complex one. A variety of successful apps have also been developed by the company. Furthermore, BSEtec̣ is extremely cost-efficient. They offer very competitive rates without compromising on quality.