The Economics of E-Learning: How a Udemy Clone Script Can Boost Your Revenue.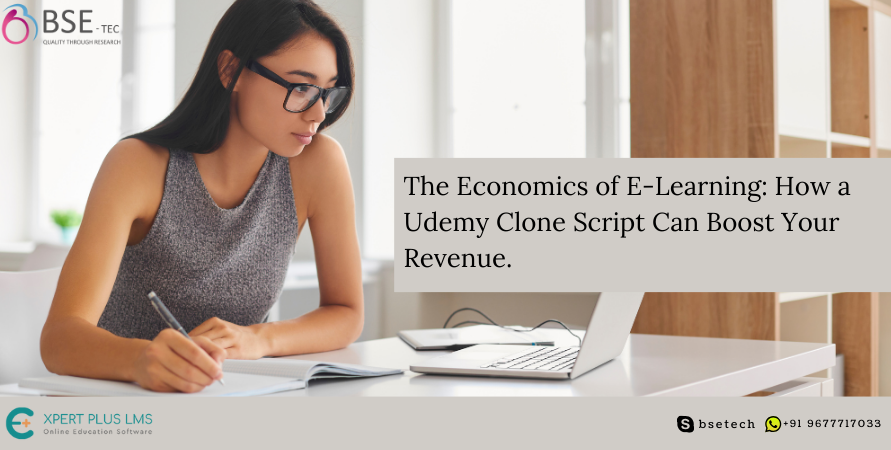 E-learning has become a popular method in today's smart learning systems across the globe. The smart way of Elearning creates new business opportunities for entrepreneurs and teachers looking for extra income with their teaching skills and expertise. With the rise of online learning platforms like Udemy, which are convenient to learn in recent days many people have been initiated to gain new skills and knowledge.
If you are considering entering into the e-learning market and want to boost your revenue, using a readymade Udemy clone script, Reach out to the best custom digital service provider. Expertplus LMS is a ready-made software solution, basically, it's a Udemy Clone script. It has to launch course platforms instantly with the features and functionality of popular e-learning platforms like Udemy. By using a clone script, you can save time and money on development costs and quickly launch your own e-learning platform.
Who is the highest-paid instructor on Udemy?
Top instructor Rob Percival has taught millions of students and has made nearly $3 million. You can also check out the earnings of other top instructors in the dashboard of each course. An instructor can make anywhere between $1000 and $3,000,000 as lifetime earnings, depending on the number of courses they publish, the number of students/user registers, the content and material (quality) of courses, and how long they've been on the platform matters a lot.
How do I become a successful Udemy or online course platform instructor?
To become a successful instructor on such course marketplaces, Get registered as an instructor in Elearning platforms like udemy, or Course Era, or launch your own elearning platform using the readymade Udemy clone scripts like Expertplus LMS.
Plan your course topic, material, and durations, and choose your course topic.
Get uploading the title, course promo video, and materials.
Publish your course.
Admin approves, and your course gets listed on the landing page.
Ways how Udemy Clone scripts can help boost your revenue:
As we know the Udemy Clone script allows the creation of a diverse marketplace of courses as per the creator's choice and experience to attract instructors from different fields and offer a wide range of courses to cater to various interests and needs. This will attract a larger audience and increase your revenue potential. Promote your course via YouTube and other social media platforms, as an Expert plus inspiration of Udemy Clone script as it's SEO friendly.
Depth of the Udemy Clone script can implement a revenue-sharing model where you earn a percentage of the course fees paid by students which is termed as Admin commission / Instructor fees where it generates a passive or recurring income without having to create your own courses can be as the platform owner. For example, you can offer display ads on your platform. https://www.bsetec.com/udemy-clone/
The Udemy Clone script comes with built-in affiliate marketing capabilities. You can utilise or partner with influencers, bloggers, or other websites to promote your courses created in Expertplus LMS – Udemyclone script and earn a commission for every student they refer. This can significantly increase your reach and revenue potential.https://www.bsetec.com/udemy-clone/
As your e-learning platform grows, a Udemy Clone script allows you to easily scale your business. You can add new courses, instructors, and features without major technical challenges. This scalability ensures that your revenue potential continues to grow as your platform gains popularity.
You can join as an instructor in Expertplus Inspiration of Udemy Clone script as full-time or part-time trainers to handle the course and course materials accessible via Web and Mobile application with a subscription option for the desired course.
You can check with the demo of web and mobile applications of Expertplus LMS – Udemy Clone script. Also, the BSEtec team provides you with a demo of each and every feature to assist you in adopting a business model to boost revenue. As we know the economics of e-learning are highly favourable, and using Udemy Clone script can help you tap into this lucrative market along with a feature of Expertplus LMS – Udemy Clone script you can boost your revenue and establish a successful e-learning business.
Did you find this article useful? Let us know by leaving a comment below or join us on Twitter and Facebook.