What is the best advantage of eCommerce website development?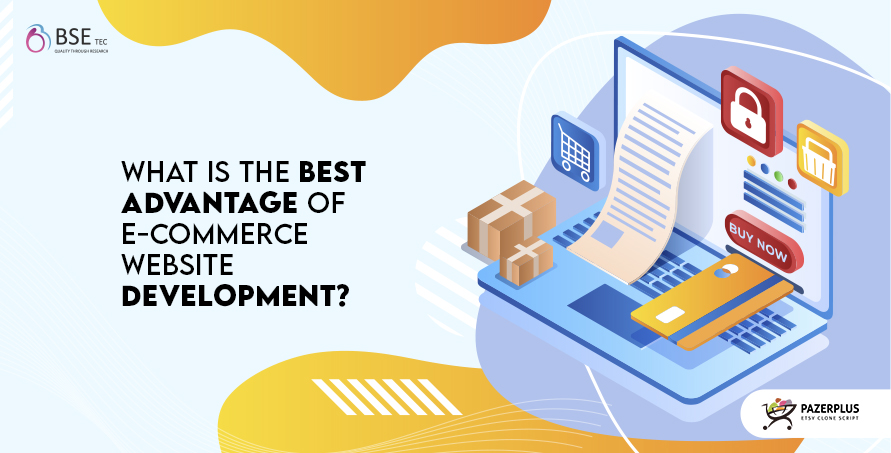 The usage of technology & the internet has evolved and exploded beyond human expectations. The internet and mobile revolution have made it crucial for businesses to boost their online presence by promoting their services and products on the internet and by default increasing their brand visibility. 
Offering comfort and convenience to a customer, an eCommerce website like Etsy makes it easier to shop from their homes without even moving an inch, letting them get their order delivered to their doorstep. 
But, why choose eCommerce web development?
To bring your business venture into the modern world, and keep your pace up with the global audience – who spend every hour of their day browsing on their laptops, tablets and smartphones etc, eCommerce website development / eCommerce mobile app development has become a significant way to reach the target market as print & TV ads have now become obsolete. 
Know About "How Augmented Reality is used in Ecommerce?"
What are the advantages of having an eCommerce website? 
The benefits of eCommerce are extensive and varied, and here we are going to explain to you the top 5 benefits of taking your business online.
Reaching a new market – From selling your items to the localities to shipping the items overseas – how the internet has revolutionized the process of shopping & retail, cannot be explained in words. Helping businesses reach beyond borders, ecommerce marketplace php script

can make geographical boundaries drop & make it possible for you to reach a global market.
Getting insights into customer data – With integrated AI and Machine learning, you can read the customer behaviour and at the same time, looking at their search patterns, purchase history, ratings & reviews – the retailers get a better insight into what the customers want from them and what they are most likely to buy, etc.
24X7 Accessibility – You cannot open a physical shop 24X7. However, an online store does have an option to stay open at all times, seven days a week. The customers can visit your website to order their needful products at any point in time leading to better sales and never having to close even on holidays.
Great Customer Support – One of the top benefits of having a website for your shopping and retail store is that you can provide unmatched customer support that is not possible in offline stores. You can cater to individual customer needs in the best possible way. You are most likely to get positive feedback due to the undeniable convenience that is provided by online customer service.
User-friendly features – Features like currency support, digital payment gateways, calculator, shopping cart, multi-language support, shipping facilities, etc. can make your readymade eCommerce app indispensable to the customers, even more than your offline store ever will.
Conclusion
Now that you know the advantages of eCommerce platforms, you can invest in the best quality Etsy clone script– Pazer Plus for your shopping needs to reach the world market. If you are on the lookout for creating your digital store, don't hesitate to contact BSEtec today!