How AI and language intelligence are helping employees learn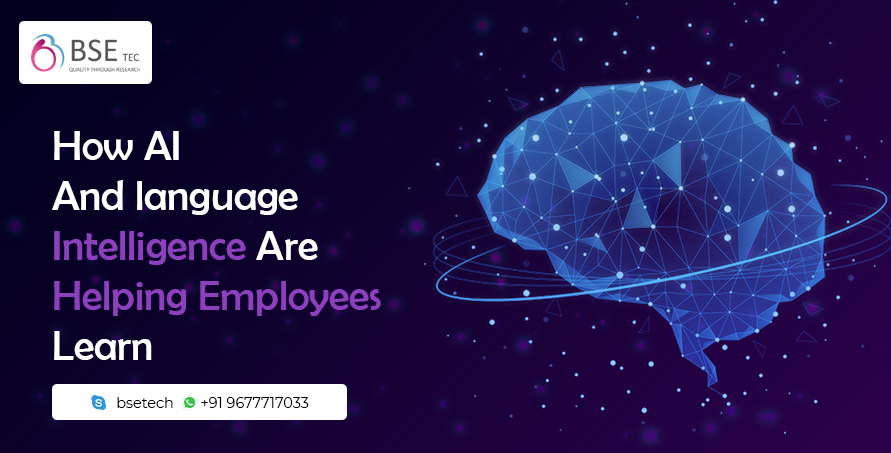 Artificial language is present everywhere around us today, in the form of machines that perform the everyday tasks that we used to do by ourselves. Artificial Intelligence is the ability of a computer program to learn and think like a human. One of the areas in which AI is being intensively developed and applied is education. AI is being used to design personalized learning paths, develop new methods of teaching and training, and evaluate the effectiveness of educational programs.
The process of learning and some aspects of teaching have been made easier and more personalised with the help of AI. Language learning is of particular interest as understanding and communicating in different languages. It unlocks several opportunities for personal and professional success. Apps like Duolingo, Expert Plus LMS, etc. are widely known for ways in which AI can help language learners. Moreover, AI is being seen as an effective tool for boosting employee engagement and improving the way people are being recruited, trained, and retained in organisations around the globe.
AI can help organisations automate repetitive tasks and increase efficiency. This can be done by providing data-driven insights that would help companies make better.
How can AI be used as a learning associate?
In the last few years, the field of AI has made a lot of progress. It is now possible to build models that can learn from data and make predictions about future events. In fact, AI has already been applied to education primarily in some tools that help develop skills and testing systems. There is no doubt that Artificial Intelligence will play a critical role in how we are hired, onboarded, inducted into an organisation, as well as the skills training and personal development programs we receive. How Artificial Intelligence is Driving the eCommerce Industry? AI-powered solutions are quietly crunching data in the background to provide insights on improving productivity. In the future, this technology will be a powerful tool for organizations to help employees learn and improve their customer experience and business operations.
An employee is expected to offer great value to the organisation. It is absolutely difficult for employees to feel comfortable and connected with the organisation in terms of both values and objective, which means greater engagement. This is precisely where AI can offer great value. AI infused with employee training platforms (LMSs) provides greater automation, personalization, data insights, and long-term sustainability. Today, the LMS is an essential part of the learning experience. It provides a single platform for delivering training and measuring results. With Artificial Intelligence, Learning & Development professionals can get a better understanding of modern learner behaviour and help develop learning pathways to improve the learning experience. Using such predictive analytics, organisations can further develop smarter learning content and enhance the employee experience. AI-powered learning platforms will help L&D professionals track and measure learner progress, while also providing insights on retention and understanding. This will allow them to revise the learning programs to suit learners' needs.
Researching, developing, and finding extensive training content consumes much time and effort. In addition, the fast pace of dynamic organisations means that it is hard to keep up with all the necessary changes in policies and procedures. This is why AI powered systems can help to instantly design content or obtain the right resources both internally and online, resulting in interactive, applicable training lessons.
For instance, if the employee needs to study how a specific thing works, the AI scours the Internet for research papers and other reliable materials. It then displays snippets from the sources for quicker learning.AI can also help companies train their employees by removing any personal biases involved and making sure that no one gets left behind, which will increase employee satisfaction.
However, AI uses concrete data to create courses and assess learning accurately and objectively. It collects data, such as your staff's individual learning styles and behaviours, previous knowledge background, and others, and analyzes them realistically. It then creates an individualised curriculum for each staff member, which is a more effective way to help them learn. AI also collects data on how your staff perform on the courses and tests that it creates.
The rise of AI will transform how organisations will manage employee engagement. With AI-powered learning tools and solutions being used in the workplace, it is changing the way businesses operate. The employees and L&D can take the advantage of automated, personalised, intuitive and data-based learning modes, thus fostering continuous learning across the organisation. In the upcoming years, it will be interesting to see how global companies will understand the trends and possibilities and implement the advanced technology. How Can Artificial Intelligence Bridge Gaps in Education?
Are you looking for the right Online tutoring software for your company? Let us make it easier for you; check out BSEtec's ExpertPlus LMS, the software you need. It has all the advanced features that are most beneficial to your business.
BSEtec is one of the technology expert companies having more than 1000+ software and application tools and features for daily use. You can contact us and opt for ExpertPlus LMS, the most responsive and efficient eLearning clone of Udemy. Get in touch with us today!