How to Leverage an LMS During the COVID-19 Global Pandemic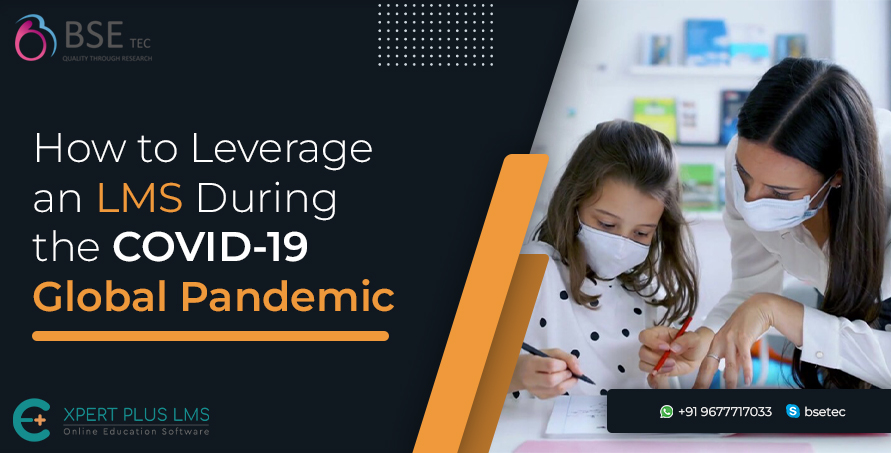 Since the COVID-19 outbreak in late December 2019, over 1.2 billion children were pushed out of the classroom in 186 countries, school districts all over the world made the difficult decision to shut their doors, forcing a sudden shift to distance learning that proved disruptive for teachers, students, and parents alike. 83% of the countries used online educational platforms to ensure learning continued. To start your own online learning and teaching platform | Expertplus LMS While at first, It seemed like a temporary, emergency precaution taken for the sake of everyone's safety, as of now, 90% of the countries adopted the digital online learning process, and 60% of the pre-primary did the same.
It was also found that up to 20% of students had problems accessing online learning platforms like udemy. Some of the issues experienced were personal such as anxiety associated with using technology; being out of one's comfort zone; inequity in assessment, particularly in "group" assignments; and, the inability or difficulty in peer interaction, particularly in presentations. Despite the best intentions of teaching staff to provide equitable and beneficial learning experiences for all students, many academic staff members feel apprehensive and not suitably equipped to teach via online modes as they themselves may be very new to technology and still learning to use some of the platforms.
What is an LMS?
A Learning Management System (LMS) is a software solution used by schools, colleges, and universities to facilitate the learning process an app like udemy. An LMS stores course content tracks student progress and provides a space for synchronous and asynchronous learning. Fully Utilize Udemy Clone Script to Enhance Your Business It's a powerful tool that is constantly changing and adapting to meet new demands in the education landscape. Schools, colleges, and universities are all looking for ways to use their udemy clone app – Expert Plus LMS to better understand their students' needs and make their experiences more valuable.
Learning Management Systems (LMS) continues to be the most effective way to deliver online courses, manage employee or student training, and increase the quality of management. In fact, there are many success stories from companies that have leveraged an LMS to improve their business processes and profitability. But it's not just about the money. By leveraging the technology to its fullest potential, organizations can drive significant business results – online reputation management, increased revenue generation, accelerating sales cycles, reducing operational costs and much more.
Leveraging an LMS Keeping the COVID-19 Pandemic in Perspective
Gamification tools: Wikipedia defines gamification as the strategic attempt to enhance systems, services, organizations, and activities in order to create similar experiences to those experienced when playing games in order to motivate and engage users. This is generally accomplished through the application of game-design elements and game principles (dynamics and mechanics) in non-game contexts. There are many elements of gamification that can be incorporated into an online education; Certificates and/or badges, Leaderboards, Points, Virtual lottery tickets, etc. 
Learning portals: ELearning portals are a cost-effective way for schools, universities, other organizations and companies to make learning more accessible to the learners. They create a central place to organize and deliver training, support self-paced study, and help learners advance their skills without having to leave their home or office. Make Learning Easy With Udemy Clone App Development .In order to optimize your learning portal experience, you will need to make sure that the content is actionable and relevant. Online Learning portals are great for distributing articles, videos and interactive content, but they need to be focused on the development of the user in order to keep retention rates high.
Automation tools: The most important function of an LMS is that it can help automate many factors, It helps to automate course creation and management. The education system can be a useful tool for creating, editing and publishing learning content.  Elearning platform can automate a number of tasks. These automation tools include: 
Content publishing, sharing, and delivery
Email notification and campaign management
Reporting and analytics 
Social media integration
Student performance tracking and analysis
Web conferencing and collaboration tools
Personalized learning experience
Mobile-ready learning
Push Notifications and alerts
Multiple content formats
Multiple payment gateways
Data security and tracking
Also Check Types of characteristic features that a Udemy clone script must possess
To sum up
A learning management system is an essential tool for schools, universities, other organizations and companies, especially in the times of pandemic as it can ease the process of learning and teaching. Expert plus LMS is an online learning platform- all-in-one solution to create courses, organize and deliver training, track learner progress, and manage the entire learning process online. Watch the live demo here. For more information on Expert Plus LMS and other queries feel free to get in touch with our experts 24*7 at bsetec.com