The Power of Trulia Clones: Revolutionizing Property Search and Listings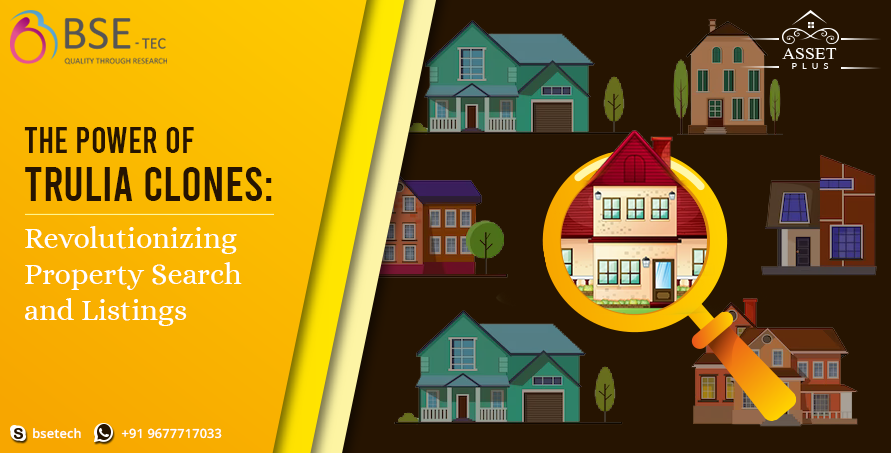 Everyone's big Dream is to buy a property! To buy a property hassle-free to be specific! So, it is the duty of a realtor to make the real estate business user-friendly by making it easily accessible and available with all the details, images, mortgage calculators, etc. All the pieces of information a user needs to make an informed decision to buy a house of their dreams. 
Check How Trulia Clone – Asset Plus Software helps you in property listing!
How does Trulia Clones and property listing software help you?
Software is built to serve buyers and sellers, so Never worry about user accessibility, Asset plus -Real estate software built-in user –friendly aspects.
– -> register in the app  -> add and upload land clips, description, pricing, amenities, and contact info to be displayed in the portal. As Buyer ->search property from property listing (Rent/owning/lease), apply a filter, use Google Maps to track accurate building spots – > book online-> remit payment and enjoy your dream property.
For Agents: Acts as a Smart bridge between owner and buyer- register – > work on completion of the sale with a brokerage.

Platform – Owner purchases Trulia clone web app -> admin-> controls the entity of business revolution in the real estate platform, Monitors the overall activity of owner/ buyer, seller and agents.
User/Agent/Builder Registration As a User, property agents and builders can register, and manage their properties and features in dashboards.
Property Listing Get the ultimate number of properties listed under sale, rental and lease with residential and commercial properties category. Users can view property descriptions and exact locations on a map. Highlight property, on each search result page, so that the visibility of the particular property is increased among property hunters.
Advanced Search A myriads of search filters like Search by Location, Rent, Sale and Lease, Commercial and Residential, Price, Number of Bedrooms/ Bathrooms, Bidding options, Maps, Resale Properties, Under Construction, Ready to Move, and New Property are included for easy search.
Map-Based Advanced Search The latest map-based advanced search option will help to find out the exact location of the property and check if it has all the basic amenities in the neighborhood.
Looking for an Agent The users can locate a particular agent, either by the Agent's Name or the Company Name or State or City, to sell/buy a property, as an agent has a long list of properties.
Bid Management Property owners or builders can create bids with Minimum and Maximum rates, with open and ending dates, for their property purchase or sale at a good value.
How to Sell?
Property owners and builders can contact agents/agents to sell their properties. Similarly, the agents can also access the property owners, builders or other agents to sell their properties.
| | |
| --- | --- |
| Traditional method | Online property listing and searching |
| Marketing relies on magazine, brochure, newspaper, TV and radio advertising no guarantee you're reaching the right people | Get handy just by scrolling through mobile apps & websites, running social media campaigns and reaching the right people who are in need. |
| The collection of data is word of mouth, board methodology. | Collection of data is easier, owners can upload their property details along with images. |
| Unclear selection option, physical visit, longer decision time. | Property info is uploaded in the mobile app/website and can book /decline to your preference from your place in a short span |
| Variable cost for properties | Fixed cost for properties |
| Physical payment and carry a written document | Online payment, digital copies of documents easy access via mobile /website |
| Users are at their own risk | Users can share their reviews, and reports to avoid risks |
| Higher rate of untrusted brokerage | Trusted brokerage under a specific software platform |
Traditional method vs. online property listing software
Asset Plus –  facilitates the building of the ultimate online real estate portal, has revolutionized the property search, and listing for buyers, sellers and renters alters the manual process – taking clients to property location, bargains and this is how real estate transactions are conducted. As a result, the Asset Plus -Trulia clone had the innovative urge to create real estate software to serve the demands of property buyers and sellers.Want to buy /sell your property? Download & visit the property search and listing web app Asset Plus – Trulia clone.
Think of the best choice for online access, Are you into the real estate sector ? Not required to step off the doorstep, purchase  Asset Plus – property listing & search software application from BSEtec -a Leading Blockchain development company that enhances your business's unique features and leads you to stand away from the usual. Contact BSEtec for development, to host your website.
Did you find this article useful? Let us know by leaving a comment below or join us on Twitter and Facebook.