The Rise of Social Commerce on Bigo Live: Blending Streaming and Shopping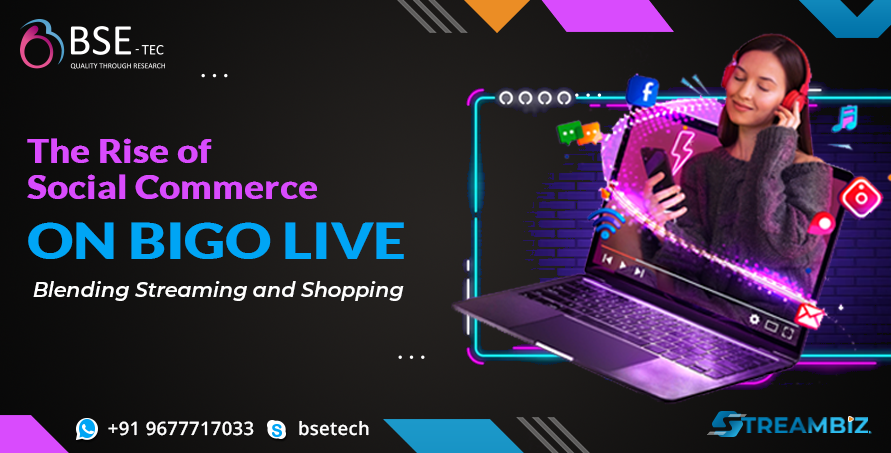 Social commerce and live shopping have emerged as powerful trends in the e-commerce industry. Online shopping became popular in late 2010 and was at its peak during the pandemic and post-pandemic 2020 even in remote areas.
What Made Livestream Online Shopping Or Live Shopping A Trend?
It all started with the fact that people were not able to visit stores. Bigo Live built an innovative platform with live streaming, recognized the potential of social commerce and created new ways for users to watch live streams. Users can broadcast their live and interact with their audience in the real-time engaging nature of live streaming. Users can watch live streams, chat with streamers, send virtual gifts, and participate in various activities. With everything going viral and reaching the masses effectively, China took live shopping by broadcasting the outfits and accessories a model or influencer was wearing, with links to buy for each of them. Since the trend was welcomed by most youngsters, Live Shopping became more popular and prominent.
The Key Live Shopping Feature!
Users can now browse and purchase products directly from the live streams they are watching via mobile app. This integration of streaming and shopping creates a seamless experience for users, allowing them to discover and buy products without leaving the app.
Why is Live Shopping a Huge Success?
Deep thinking about how online shopping will work out? Worry not, Live streamers showcase products via the live streaming app demonstrate their features, and provide real-time reviews, giving users a more authentic and trustworthy shopping experience. This live demonstration aspect of social commerce helps users make more informed purchasing decisions.
As you know word-of-mouth is a high power voltage to reach the public. You can kick start Live Shopping sessions by sharing your product purchasing experience through social media with your friends and family. This not only encourages social interactions around shopping but also serves as a valuable way to assist brands and sellers in reaching a broader audience, ultimately leading to improved sales and revenue
So how to create an app similar to Bigo Live for E-commerce business?
Check out BSEtec – StreamBiz live streaming application, who build simpler, user-friendly live streaming apps. StreamBiz -Bigolive app creates a flawless live streaming video app with advanced and unique features. It is a fully responsive live-streaming clone script that enables the audience to stream videos at their convenience.
1. Admin: Monitors & manages the entire application, lists & views the recorded live streaming.
2. Livestreamer/broadcaster: Go live, start streaming your live session to sell your products, and notify the user who follows their profile.
3. User: Sign up/login to the Streambiz app, join the live streaming of the desired streamer, send a gift, interact with the live streamer, and join the Google Map-based live session.
Assume, clothingstore.com purchased stream biz – bigo live application script, Once the live streamer clicks "Golive" —the User gets a notification to join the live streaming session of clothingstore.com, If the user already follows the clothingstore.com account new user can join the live streaming session via map location-based. Live streamer allows multiple viewers in session, showcase their products live, gives spontaneous replies to user queries.
The viewer joins the live streaming session and actively participates in the streaming session,
1. Likes the stream
2. Share the live stream via other social media platforms.
3. Send Gifts.
4. Enquire in comment regards product description, cost, material and stuff, viewers directly interact with streamers to make a decision to purchase or not to place an order.
5. Can report if the live stream is abused as it violates the norms of the application.
As a result, for brands and sellers, social commerce or live shopping presents a unique opportunity to connect with their target audience in a more engaging and interactive way.
Onboard Entrepreneurs
The rise of Social commerce, welcomes many young entrepreneurs, like influencer marketing to
✓Promote your brand,
✓Connect sellers
✓Connect resellers and Users
✓Sales and revenue management
Entrepreneurs can collaborate with popular streamers to promote their products, leverage user-generated content, and tap into the platform's vast user base to drive sales and brand awareness.
In conclusion, the rise of social commerce on live-streaming apps is a testament to the growing demand for interactive and immersive shopping experiences. By blending live streaming and shopping, Streambiz – Bigo Live script has created a platform that offers users a unique way to discover, engage with, and purchase products. As social commerce and live shopping continue to evolve, build your live streaming application with BSEtec –A leading digital solution provider. Contact BSEtec for more platforms that suit and integrate shopping features into live streaming services.
Did you find this article useful? Let us know by leaving a comment below or join us on Twitter and Facebook.