Bigo Live Clones: Building Your Own Dynamic Live Streaming App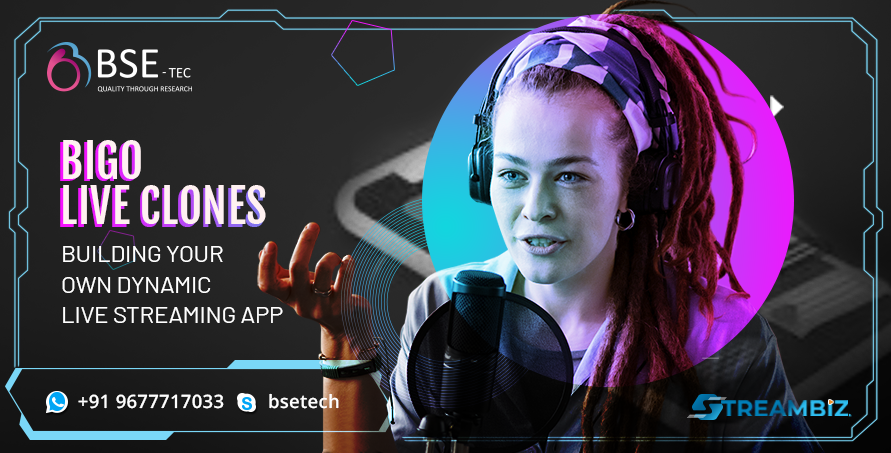 The emergence of YouTube in 2005 opened the way to new opportunities in video streaming; the service hosted its first livestream event in 2008. Later the mobile app live streaming service began hosting live streams of e-commerce, fitness, medical and live classrooms and became immensely popular post-pandemic as great entertainment for the public.

How did the Bigo Live Streaming App become popular?
As mobile phone usage peaked, Live streaming applications snatched their place in each person's mobile phone, by being downloaded via Play Store and App Store during the pandemic, Many special occasions, even weddings, and naming ceremonies were telecasted with the Bigo live streaming app. Such live streaming platforms connected people via their live streaming features far or near live streaming apps making it close to heart virtually just by clicking "go live".
The most realistic feature is the availability of high-speed internet and improved mobile devices with better cameras and processing power made live streaming apps more accessible among users.
Where is Bigo Live -Live streaming app used?
Primarily Live streaming apps are used by gamers, doctors, fitness trainers – coaches, aspiring performing artists, vloggers and online marketers. The Bigo Live app can provide several advantages for businesses, especially those in the entertainment, media, and e-commerce industries.
How are Live streaming apps beneficial?
The app enables businesses to live stream events, product launches, tutorials, and promotions, providing a more interactive and engaging experience for the audience.
Businesses can generate revenue through virtual gifting, where users can purchase and send virtual gifts to their favourite streamers or businesses.
Live streaming apps like Bigo Live provide opportunities for businesses to collaborate with influencers and streamers, leveraging existing fan base to promote products or services.
How does Live Streaming App Script – Stream Biz help you?
The Live Streaming app script, Stream Biz is inspired by Bigo Live. It integrates with social media platforms like Facebook Live, Instagram Live, Bigo and Periscope to share live-streaming features, making it easier for streamers to broadcast their content to a wider viewer/audience.
Stream Biz – Live Streaming app, the Bigo Live clone provides real-time interaction and engagement between streamers /broadcasters and viewers through likes, comments, shares and gifts.
It is power-packed with add-ons for young entrepreneurs/social media influencers – a most modern method of business – Online business by interacting with viewers to sell, re-sell your products, can take up live classes for academic and non-academic programs. Also, consult your medical records with your doctor's results with the growth of live streaming apps.
Scalability: The app script can accommodate 'n' number of users. This can be customized with the server or cloud solutions based on your specific needs.
Features of StreamBiz: Personalized with your brand name and logo, with the following features Go Live, Search Filters, Get notified, Social sharing, Gifting & can be customized with more features, get hosted in your domain name in 48 hours and stay enjoying your live streaming application by contacting BSEtec to reach brand among audience.
Streambiz is developed using Kurento and Wowza streaming servers with user person of
✓ Admin – Monitors & owns the entire application activity
✓ Broadcaster/live streamer/presenter – Go live and interact with viewers
✓ Viewer/listener/ user – Joins the live stream and participates in streaming, sends gifts, comments, likes and shares the live session among friends & family via social media platforms.

Where to develop a live streaming app script for my business?
Though Bigo live clone scripts are completely white labeled they can be customized and branded. Still, if you want to develop advanced live streaming apps with integrated AI or ML benefits, then choose a good digital solution provider. Wondering how to choose the right development company to build a live-streaming app? BSEtec – A leading app development company that can help you with your dream digital project.
Did you find this article useful? Let us know by leaving a comment below or join us on Twitter and Facebook.