Make It Work: Tips On E-Learning App Development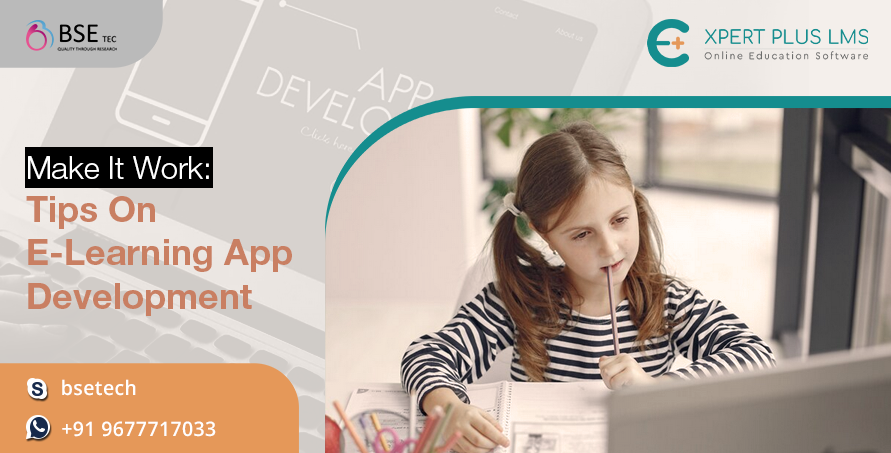 Today, a majority of the population is dependent on mobile devices. Be it for official work or for entertainment purposes, people prefer to use mobile applications. This has led to a tremendous increase in the demand for mobile applications. The history of technology has always been a driver of change in education. And with the inception of new technologies, the development of mobile applications has become easier than ever before, each promising to revolutionize the way we learn. With the rise of smartphones and apps, we are now seeing a new wave of educational apps and tools that are changing the way we learn.
Read 9 New Elearning Trends & Predictions for 2021/2022 | Udemy clone App 
The eLearning industry is becoming the one that is experiencing immense growth and showing potential towards technological advancement. The global eLearning market is expected to grow from $185.26 billion in 2020 to $388.23 billion in 2026, proving the global inclination towards online education. The unexpected surge of learners in the eLearning industry has opened the doors of unlimited possibilities. The potential that the world has seen in online learning management system is mind-blowing. Corporations, educational institutions, non-profit organizations – all are inclining towards online means of education. 
The popularity of eLearning apps such as Expert Plus LMS has exploded in recent years as people have become more and more interested in learning new things. These apps offer a wide variety of courses, from business and marketing to foreign languages and cooking. One of the reasons these apps are so popular is that they are incredibly convenient. Fully Utilize Udemy Clone Script to Enhance Your Business  With just a few taps on your phone, you can be learning a new skill or brushing up on a topic you already know. And since most of these apps are free or very affordable, there's no reason not to try them out. This being the case, many eLearning professionals plan to develop an eLearning app and are looking for opportunities and methods to develop it successfully. 
Many factors need to be considered before building an eLearning mobile app, but the key factors are mentioned below.
Find Your Audience: The foremost thing to do is to define your idea and your target audience. Depending on your niche and your idea, you must be certain about the audience you are planning to target, as it can be everyone. Ask yourself questions like: Who are your target audience, what kind of content they would be looking for, What all would be their requirements, What kind of knowledge quotient will they expect from your eLearning mobile app. You must meet the audience' requirements in order to attract the audience towards your eLearning mobile application.
Want To Have A More Appealing Elearning Software? Read This!
Develop an Engaging and Meaningful eLearning app: Once you have a good understanding of your target audience, the next step is to create a plan for content. This content must be high quality and valuable to your target audience. If you can provide engaging content, your audience will be more likely to share it with their friends and followers. Content is the soul of your eLearning mobile app.Is Udemy clone script an efficient one to develop an eLearning platform? It must be engaging, informative and interesting so that it can hold the attention of your target audience for a longer period of time. Modern educational methods have evolved the procedure of delivering knowledge, as now they use several advanced tricks and techniques that can help make the eLearning procedure easy and effective. Expert Plus LMS – Best udemy clone app has it all. It is the best solution for crafting such an engaging platform.
A Marketing Strategy: Finally, make sure you are promoting your content in the right places. It will require a lot of effort to promote your e Learning app for kids and create a buzz about the same in the market. For this, you will require a well-planned marketing strategy. Make Learning Easy With Udemy Clone App Development. The marketing strategy would require paid advertising for PR promotions and social media marketing in several cases. But the primary thing is that you must reach your target audience and convince them that your eLearning mobile app will be informative and practical.
Pick your team of developers: It is one of the most vital steps of the app development process. Select your set of developers who will be working on your app. You need to have a clear idea about what you want and then find the team that can deliver it. Do your research, ask for referrals and look at portfolios to make sure you're hiring the best developers for the job.
To sum up
A learning management system is an essential tool for schools, universities, other organizations and companies, especially in the times of pandemic as it can ease the process of learning and teaching. Types of characteristic features that a Udemy clone script must possess Expert plus LMS is an online learning platform- all-in-one solution to create courses, organize and deliver training, track learner progress, and manage the entire learning process online. Watch the live demo here. For more information on Expert Plus LMS and other queries feel free to get in touch with our experts 24*7 at https://www.bsetec.com/
App development is a challenging process, and hiring a top mobile application development company will help you a lot. For this, you may require mobile app developers who have technical knowledge and experience.  At BSEtec, the team of professionals utilise advanced cutting-edge technologies to develop a top-notch application. Contact BSEtec if you are looking for one of the best app development companies.