The Food Delivery Revolution: How Your Business Can Benefit from a DoorDash Clone Script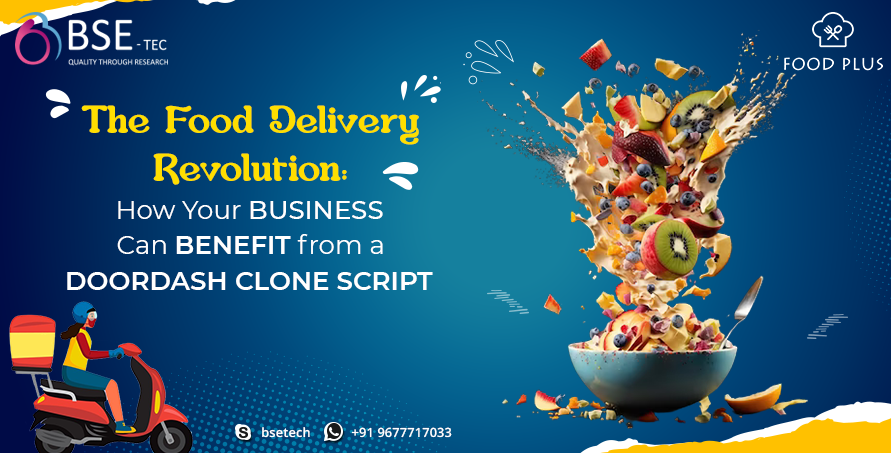 Digital needs are getting increased and more people are turning to online services for their daily needs. One of the most popular and top-reach services is food delivery. With the rise of food delivery services like DoorDash, Uber Eats, and Grubhub, it's clear that this trend is here to stay. If you're a business owner looking to capitalize on this trend, you may want to consider investing in a readymade DoorDash Clone Script. The number of users in the online food delivery industry is expected to reach a whopping 2,656 million by 2026.
What is DoorDash Clone Script?
A DoorDash Clone Script is a readymade food ordering and delivery software for web and mobile application that allows you to create your own food delivery platform. DoorDash Clone Script connects users, restaurants & delivery agents with the key features and functionalities of the popular food delivery service, DoorDash. With DoorDash Clone Script you can create a custom app or website that allows customers to order food from local restaurants and have it delivered to their doorstep. For every single minute nearly 88% place their order globally.
Benefits of Using a DoorDash Clone Script like Foodplus
By creating your own online food ordering and delivery platform, you can increase your revenue by charging a commission fee on each order. This is a great way to generate additional income for your business "Generation of Income".
By launching your own online food ordering and delivery platform with the help of DoorDash Clone Script, you can reach a wider audience by offering your services to customers who may not be able to visit your physical location. This includes situations like Pandemics, People who are busy at work, travelling more specifically for those who are unable to leave their homes, and those who live in areas without easy access to restaurants. "Reach Audience online via Online marketing"
Online food ordering and delivery platforms, can help streamline your operations by automating many of the processes involved in food delivery. This includes order processing, payment processing, and delivery tracking; it can also inherit blockchain technologies to ensure the operations are channelized in safe and secure methodologies. This can help you save time and money, and improve the overall efficiency of your business "Streamlined Food Operation".
Creating your own food delivery platform can help to increase your brand recognition. By offering a convenient and reliable service, you can build a loyal customer base and increase your visibility in the market " Branding", as in fact many advertisements are playing, subscribed by the platform owners to promote their ads like Netflix, Amazon Prime, wynk and so on.
By investing in a DoorDash Clone Script like Foodplus, you can gain a competitive advantage over other businesses in your industry, delivery is not limited to foods, start to deliver pharma, groceries, and last-minute missed items. Enable attractive discounts for the foods and items offered in your food delivery apps – "Offers and Advantage"
To be honest "The food delivery revolution" and businesses that want to stay competitive need to adapt to this trend, onboard many new young entrepreneurs, and give scope & hope that business can reach highs. By investing in a DoorDash Clone Script like Foodplus, you can create your own food delivery platform and take advantage of the many benefits it offers. Whether you're a restaurant owner, a food delivery service provider, or a business owner looking to expand your services, get in touch with BSEtec – a leading digital solution provider to get Foodplus –  DoorDash inspirational Script. This is a great investment that can help you grow your business and increase your revenue.
Did you find this article useful? Let us know by leaving a comment below or join us on Twitter and Facebook.