The Evolution of Food Delivery Apps: A Deep Dive into Convenience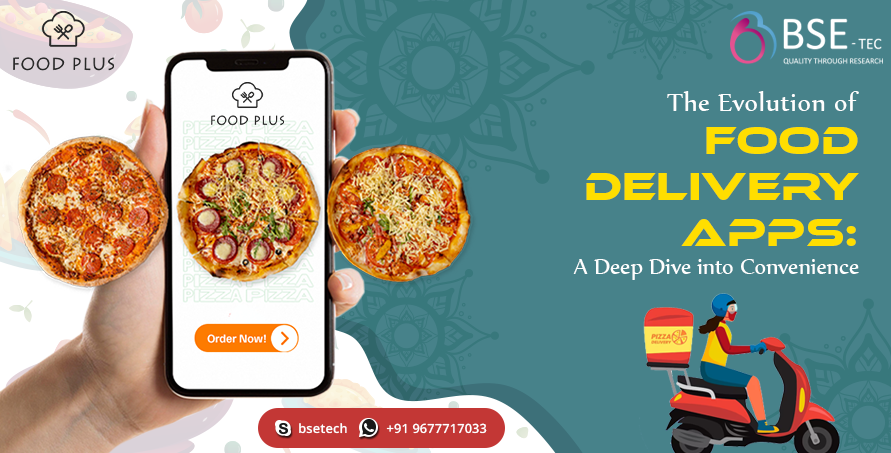 Hungry or craving something? But not ready to dress up and go to restaurants? Well, we have online food ordering software to get your food delivered to your doorstep. Food delivery apps have revolutionized the way people order and receive food. They have become an integral part of our lives, offering convenience and efficiency like never before. In this deep dive, we will explore the evolution of food delivery apps,

Food delivery apps emerged in the early 2000s, with companies like Grubhub leading the way. These apps help users to browse menus, place orders, and have food delivered to their doorstep. The COVID-19 pandemic had a profound impact on the food delivery industry. During lockdowns and social distancing measures in place, people relied heavily on food delivery apps for their meals. This pursuit led to increased partnerships between apps and restaurants, as well as the emergence of kitchens and virtual restaurants.
Days passed as the popularity of food delivery apps grew, so did the number of players in the market. Aggregator apps like UberEats, and DoorDash entered the market by providing multiple choice food selections from multiple restaurants. Food-delivering apps act as intermediaries between customers and restaurants, connecting them through a single Food delivery application platform.
How Food Delivery apps made our life much simpler?
In recent trends, Food delivery applications like Swiggy, Zomato, and UberEats become more user-friendly with 24*7 customer support (chat and call) team is here to promptly address and resolve any issues related to the food delivery service and refund the amount if we like to cancel the order etc. Food-delivering applications in real-time tracking, personalized recommendations, and easy payment options have enhanced the overall user experience. GPS technology has also played a significant role in improving delivery accuracy and reducing delivery times. 
Food delivery apps expand beyond delivering meals from restaurants. They now offer grocery delivery, alcohol delivery, and even pet food delivery in a short span. This allowed these apps to cater to a wider range of customer needs and increase their market share. Food delivery apps are expected to continue evolving and adapting to changing consumer preferences. In the future food delivery apps can integrate Blockchain, artificial intelligence and machine learning to enable apps to provide more personalized recommendations, accurate data, theft of personal data while placing orders and improve delivery efficiency.
Streamlining the action of Ordering- Processing- Delivery
Food delivery applications expand the delivery market and third-party delivery platforms, small restaurants to big restaurants have the leverage to grow via delivery apps. This special feature of mobile apps boosts customer engagement to greater levels.
Online Storepoint, Reviews, and Ratings
Food delivery mobile apps will help restaurants rank better on various ranking sites. Customers prefer to place their orders on their mobile devices which will promote a positive interest in the business. Customers can write reviews and ratings to improvise the application, restaurant items and so on. Most of these negative feedbacks can be easily resolved by a prompt response.
Where can I build my food delivery app?
Get connected with BSEtec – A leading blockchain development company that has its top-trend food delivery app script – Food Plus. The Food Plus application is available in the Play Store and App Store and connects restaurants via the website.

Simpler ways for users : Download the foodplus app → sign up/ GPS tracks the location and list the restaurants nearby/filter and place your order once after remitting the payment.

Dasher/Delivery agent : Once the user places the order  → dasher gets notified to accept or decline the order

Restaurant : Owning new restaurants  → get registered along with the app & get listed in the app add your menus/rate cards so users can start placing their orders.
Advantages of Food delivery app
Gives customers the freedom and choice to place an order any time, from anywhere.
Saving the time and resources typically spent on traveling to pick up a meal. 
Provides employability. Dashers can also earn part time.
Encourages more entrepreneurs who are passionate about cooking. 
Certain applications provide discounts for the users to enjoy their meals.
Provides wider business opportunities for restaurant owners.
To say,  food delivery apps have transformed the way we order and receive food, offering unparalleled convenience and choice. Build your Food ordering app with BSEtec 's technological advancements, which work on customer demands to shape your future – the food industry.
Did you find this article useful? Let us know by leaving a comment below or join us on Twitter and Facebook.